2013
In 2013 there was a lot of really fun BOM, Mystery's, QAL, SAL, Challenges, and other activities. I'm going through the list now, to weed out those who links no longer are active. I will leave up those which still have patterns and instructions available for those who want them.
-----------------------------------------------

Mysteries
Celebrate the Year is the 2013 mystery BOM designed by Shabby Fabrics! This darling calendar style quilt features lots of hand embroidery and sparkly embellishments. The pattern will be available as a Free Download around the 7th of each month.
Link HERE.
Back To Square One Mystery
Judy over at Patchwork Times is hosting this mystery.
It will be a medallion type quilt. The finished size will be 92″ x 92″. Don't panic . . you don't have to do the whole quilt!
Link
Here
Quilt Doodles BOM 2013
This quilt will consist of 12 blocks, one a month. The blocks will be pieced with the occasional appliqued one, maybe paper piecing too.
Link
Here
"My Home is my Castle"
Ylas Quilt's BOM called "My Home is My Castle"
There will be 12 easy to sew BOM with a size of 8" x 8", suitable for beginners too.
Link
Here
.
More Mystery's:
Linda Hahn's Mystery BOM
The newest BOM from Persimmon Quilts is guaranteed to bring some sunshine into your life! Although Le Ann Weaver designed this scrappy quilt with batiks in mind, you could always use your favorite fabrics. This bed sized quilt is 85" x 85", but if you're looking for a lap sized project the center star and surrounding blocks measures 56" x 56". Made with 8" and 9" blocks.
Link HERE
The new Block of the Month for 2012-13 is called simply -- Vintage Sampler! I have given it the nickname of "This Old Quilt." Blocks will be posted on the 1st and 15th of the month, and will be available for free for 30 days.
Link HERE
Dixie Diary 2013 Block of the Month
Check Here on the first Saturday of each month in 2013 for a free Block of the Month with stories from Sarah Morgan's Civil War diary.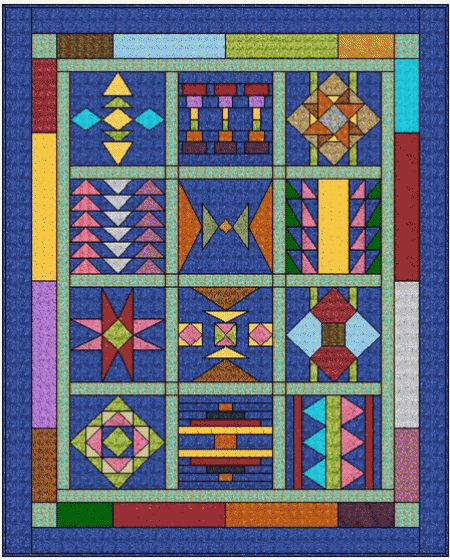 Pendleton Inspired 2013 Block of the Month Quilt, Original Project designed by TK Harrison from BOMquilts.com
Sulky's very adorable BOM for 2013
Link HERE
One Piece at a Time has a new 2013 BOM called
" Jingle"
Link Here.

Pinwheel Paradise
This BOM will run for 12 months, beginning Jan. 2013 and ending in December.
Link
Here
Skillbuilder
This BOM will have a total of 20 blocks, 2 blocks per month. On
Thursday, January 17th, 2013
the first block will be posted.

Link Here
Pixie Garden
The Pixie Garden is
Jeanne Rae Crafts'
Block of the Month Quilt for 2013.
Link Here

Strictly For the Birds
Just Quiltin with Denise Russart is offering this wonderful BOM for 2013.
Link Here
Claudias Quilts Introduces a Paper Pcd. BOM " Lighthouses"
The series will consist of eight lighthouses in various sizes and from different countries as well as eight maritime blocks.
Blogger Girls BOM
Beginning Jan. 2013 a new block will be released each month.
Chocolate Cake and Roses
Quilters Alphabet
A 2012 - 2014 BOM offered by Claudia's Quilt Shop
A QAL brought to you by Country Threads
Dancing Stars
A Quilt Along provided courtesy of Amy's Creative Side.
Link Here