Wow, 2012 is going to be a really, really fun year. Here are more activities to join in on. Remember to check my Mystery Quilts and More page for links to a listing of more.
The Sew Happy Geeks QAL
Fabric Requirements are posted now.
The QAL starts in January.
Oh yea, forgot - there is also a giveaway.
Check it out.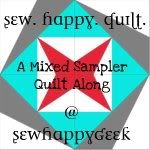 It's another year of Rainbow Scraps over at SoScrappy. I tried to do a few blocks last year, but kept
changing my mind, so got lost in what my ultimate goal was. I still want to do something Rainbow.
This year thing might be a little different, so here is the link button to keep updated on the rules.
And lastly, not an activity upcoming but I wanted to share with you all that there is hope in entering giveaways . I entered quite a few of the blog hop giveaways this year due to finances being in a crunch and my fabric stash, and other supplies diminishing to an all time low. Plus I am a fairly new quilter and still needed things, like rulers, etc. So I entered those giveaways that offered fabric, tools, notions, and other things I might need this year. Plus a few that had offered things i probably didn't need, but would make things easier in life or just to be enjoyed (like goodies to eat) - lol.
So far this year I have won two fabric bundles and a Great Quilt Calendar for 2012.
This week I received notice that I have won a cute Crypton Super Fabric shopping bag from
Green Bag lady
. Many of our stores are going to start using the BYOB (Bring Your Own Bag) rule this year and if you don't- you get charged extra for their plastic bag. Even though that charge isn't a lot, I can see it adding up over the year. I'm trying to cut more expenses, not add to my expenses this year. So since I didn't have one, didn't want to buy one, and don't want to get charged extra every time I buy groceries, I figured I would need to sit down and make several pretty soon. Hoping I had enough supplies so that I didnt' have to buy anything extra. So when this giveaway came along, I just had to enter as this was a soon to be "need".
They are so cute, and look like they are really well made. I think when I sit down to make a few more, I'll see if I have some fabric that will coordinate with the color of bag I receive. Then I'll have a set.
Well, long enough post. Have to get moving this morning and get chores done so I can go Sew. : )